The Origin of the Project
Since 2010, Ministry of Science and Technology (MOST) in Taiwan successively launched three principal projects--Consortium for Climate Change Study (CCliCS), TCCIP and Taiwan integrated research program on Climate Change Adaptation Technology (TaiCCAT).
Among these projects, TCCIP, which is coordinated by National Science and Technology Center for Disaster Reduction (NCDR), buildups the climate change dataset, supplies projected climate change downscaling data, as well as provides the climate change scientific data service.
Based on the established achievements, TCCIP's goals include deepen the feasibility of integrating manipulation tool/process and convert it into government policies; participate in international networking; strengthen the high resolution model simulation ability in Taiwan and support the local impact research; integrate the climate adaptation service of climate scenarios, risk information and adaptation tool; formulate the integration of adaptation knowledge and implementation framework, expand the application possibilities founded on science.
Our Mission
In TCCIP phase 1 (2010-2012) has produced substantial results for user service such as producing digitalized, homogenized, and gridded meteorological data sets; projecting climate change projection of Taiwan area; producing high spatial-temporal resolution data sets by statistical downscaling and dynamic downscaling; developing technologies to apply climate change data to the studies of disaster reduction and water resources management, publishing "Climate Change in Taiwan: Scientific Report 2011", and building the TCCIP website (tccip.ncdr.nat.gov.tw).
In TCCIP phase 2 (2013-2015), in addition to being a producer of high-resolution climate change projection data, the TCCIP also served as a communication interface, effectively passing not only the data but also the related information to users.
In TCCIP phase 3 (2017-2021), we aims to serve more users, from governments, research, industries to the public. To satisfy the users' needs for climate change adaptation formation, we provide data, information, knowledge and intelligence; to promote climate change service in Taiwan and keep up with the global step, we establish international connections.
The expected essential outputs in this term are as follow:
Critical application technique development and fundamental ability buildup.
Deepen the researches of critical topics.
Scientific service platform.
Parallel development for international cooperation and framework.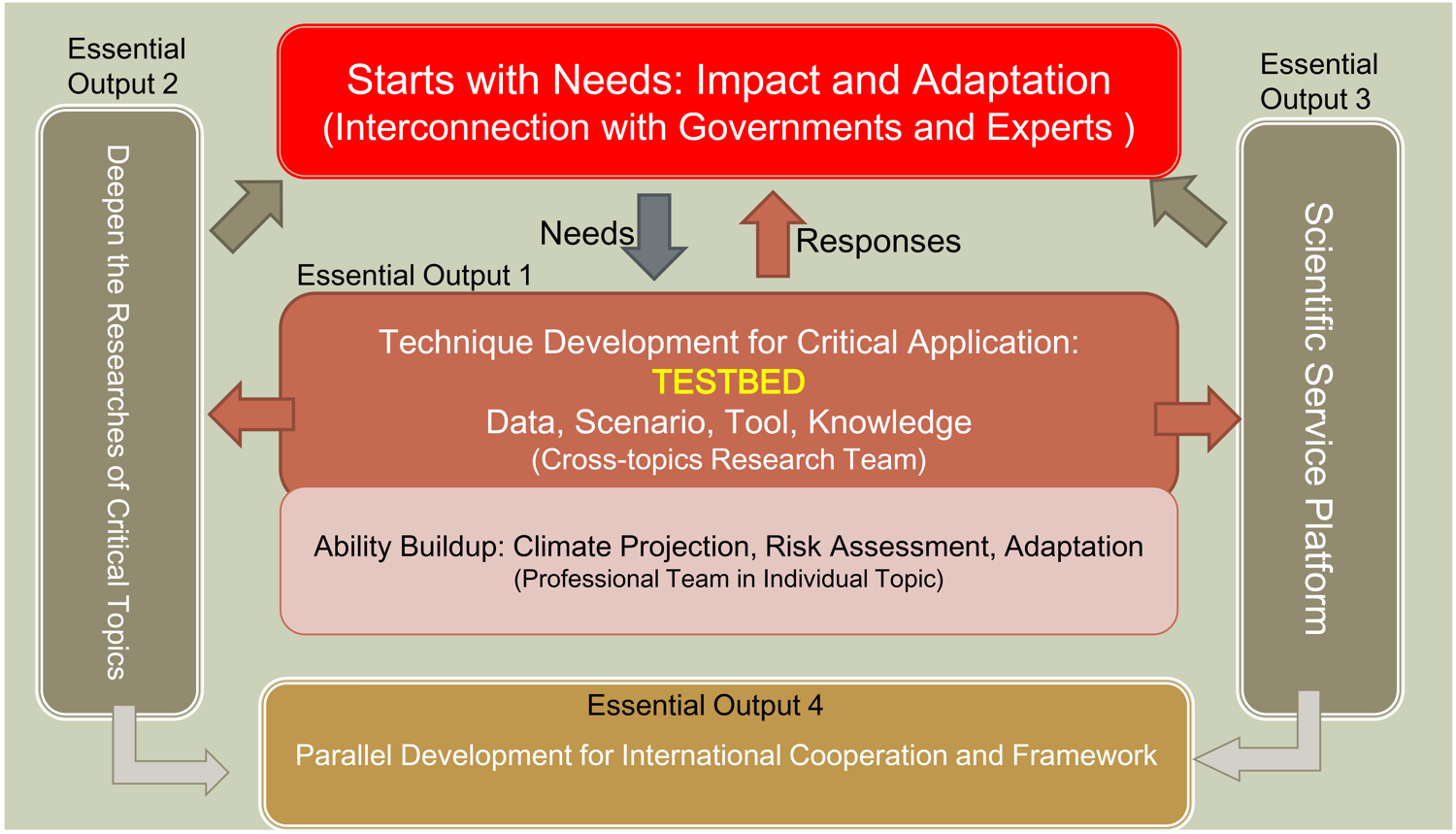 Work Schedule
Taiwan Climate Change Projection Information and Adaptation Knowledge Platform, also known as TCCIP phase 3, is a 5-year-period project. While the details for each team in this TCCIP are illustrated in Staff and Organization, main tasks and work schedule for each team are as below. Products from all teams will transform to the data, information, knowledge and intelligence, presented in this platform.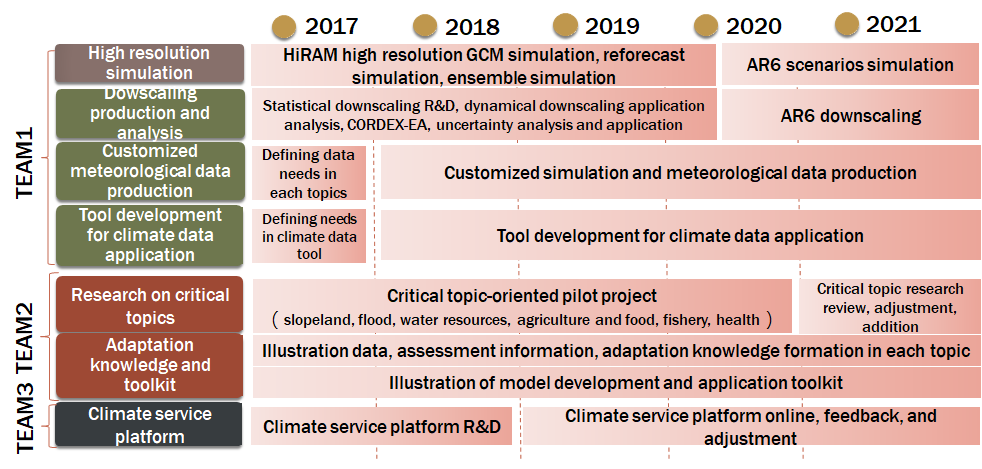 Staff & Organization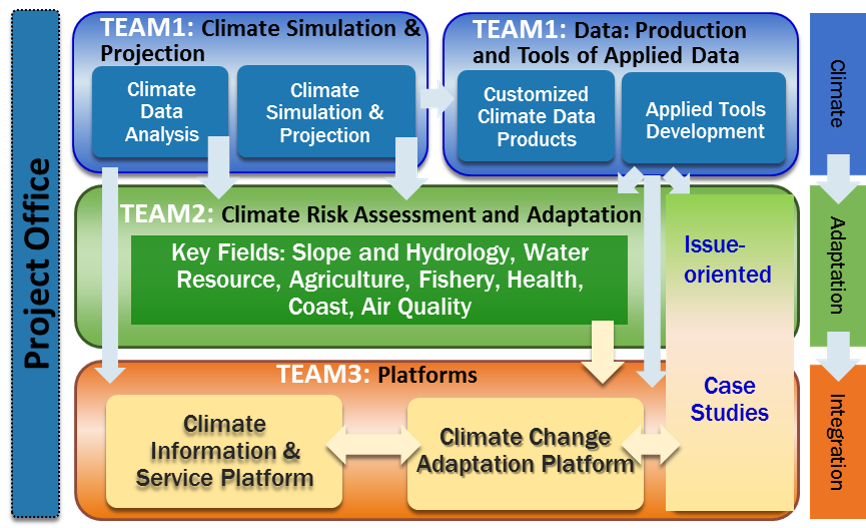 Team 1: To understand Taiwan's climate variability and extreme event
Digitizing and gridding long term observation data
Climate analysis: the past and future
Regionalization of climate projection: statistical and dynamical down scaling
Taiwan climate reanalysis
Team 2: To assess Taiwan's climate risk and potential adaptation measures
Application of climate data
Risk assessment SOP
Risk and adaptation assessment of various impact fields, e.g., disaster, agriculture, public health, etc.
Interdisciplinary and multilateral risk assessment
Team 3: To provide information of Taiwan's climate study and climate impact study
Climate change data service (observation and projection)
Information on climate change and its impact and adaptation
Methodologies and tools (risk maps and simulation models, case study etc.)
Communication and education