Taiwan Climate Change Projection Information and Adaptation Knowledge Platform (TCCIP)
is currently in the fourth research phase of research since it began in 2009. In this new phase, TCCIP aims to strengthen cross-level and cross-sector adaptation applications through climate-related research to support Sustainable Development Goals ( SDGs) in Taiwan. Simultaneously, TCCIP strives to achieve the mid-term goal of the National Science and Technology Council (NSTC) in proactively responding to the climate emergency and enhancing the systemic resilience of Taiwan.
Mission
Advance User-driven Climate Change Related Science Research
Connect government departments and scientists across universities and colleges for advancing climate-related research such as climate projections and practical studies.
Reinforce the collaboration between scientific research and practical application through technological development and service delivery.
Cultivate Climate Change Science Services
Strengthen communication and cooperation through international knowledge transfer and promote Taiwan's scientific research on climate change and local development of technology.
Improve TCCIP's functions for providing useful and updated climate change services to a wide range of users from academic and research institutions, government departments, industries, and the public, especially those vulnerable to climate change Impacts.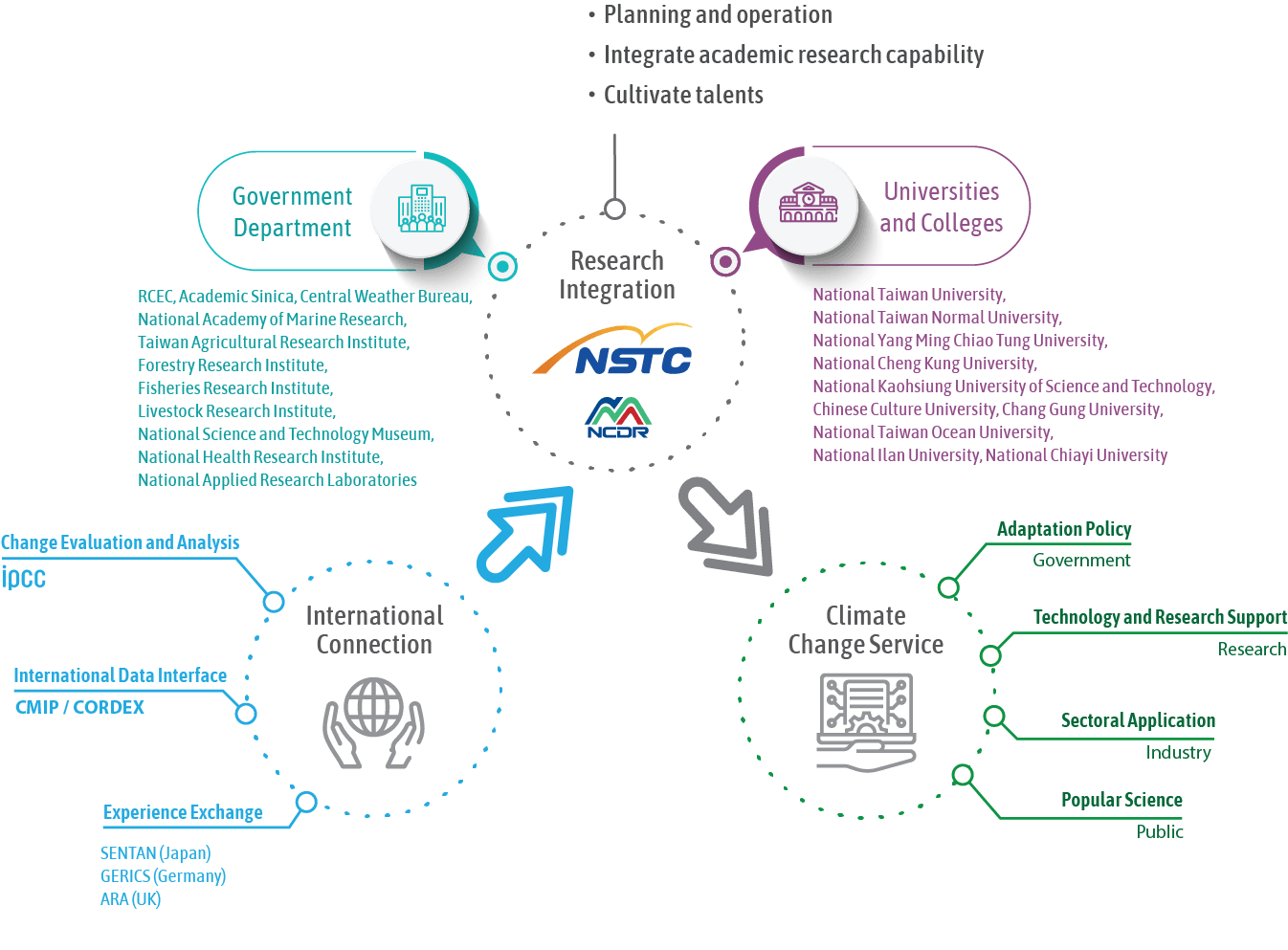 Organization
Integration of Research, Development and Operation
TCCIP also supports the climate adaptation-related tasks for the National Science and Technology Council (NSTC) by assisting to bridge 'Research' with 'Operation.'
TCCIP is therefore divided into three teams (Team 1, 2, and 3), of which all can function independently but constantly work under a collaborative spirit.
Team1

generates various climate information and conducts climate change analysis. This includes the improvement of climate analytical techniques for producing high-resolution observation and projection data sets. Value-added studies such as analyzing climatic patterns are also one of the team's critical tasks to meet sectoral needs.

Team2

investigates climate change impact and adaptation application. This includes the evaluation of climate change hazards, impacts and adaptation strategies in ten thematic areas (agriculture, water resources, landslide, inundation, coastal zones, fisheries, forestry, cattle farming, health, and urban heat island). Developing an adaptation framework, knowledge system and tailored tools and maps is also the key part of the research scope of Team2.

Team3

acts as the main information outlet for the TCCIP project by providing updated information and promoting climate change services. TCCIP's integrated platform and functions (e.g., climate change data store and adaptation resources kit) are maintained and operated by this team. Regular additions of tools and knowledge to the platform are made based on the feedback provided by users. On top of that, one of the main missions of this team is to enhance cross-disciplinary collaboration and communication by improving knowledge transfer and the active promotion of climate change research results.